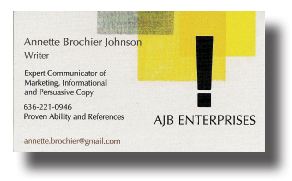 Annette Brochier Johnson, expert communicator of marketing, informational and persuasive copy has enjoyed a successful career in business and community service. Annette has performed in various writing capacities including:
Business (General Office)
Business with Emphasis on Customer Service Expertise
Community Service Clubs and Non-Profit Organizations
Manufacturing
Marketing and Promotional
Political
For professional references please go to my LinkedIn Page
Below are some of the professional writing services Annette provides. Please contact Annette to view her portfolios.
Business Services Offerings