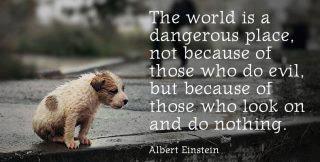 Having the additional ability to reason and therefore, expected to ably discern differences, man should routinely ask questions.  There is AS YET no harm in being inquisitive; despite what the current, myopic main media might imply, one should freely share and explore all variables of a topic.   While I wouldn't attempt to read the intent of all the journalists behind the microphones, I would ask that we consider the source.
The US media have been fashioned from liberal arts and collegiate think tanks, many of which are anti-free market.  While there is no immediate harm in being compassionate and relegating a certain amount of the free market net earnings to community needs, the decision makers have grown power-hungry, therefore, less than honest with their philanthropic agendas.  And the main media have been quick to disguise underlying facts to oblige them.
The fiscally aware, i.e. the entrepreneurs and wage earners, are mindful that there are only SO MANY PIECES of the same American Pie…and more than twelve slices are needed in this 21st Century.  Twelve slices of tax payer money are rather thin and finite.  Not nearly enough to accomplish the compassionate missions of the most well-intended; the unscrupulous have yet to be fully vetted or, at the very least, have their microphones taken and discarded.
The competition continually competes for our dollars and rapt attention.    As some of the most benevolent people in the world, perhaps it is better for Americans to test the waters at the local watering hole.  Time to restudy that marketing travelogue…and make sure we are on board and our economic journey correctly remains in a free and open sea.
God Bless America —- and the ones who defend it at home and abroad.